A second serve, a 130 kmph kicker to Serena Williams' forehand was returned cross court at blistering pace. Simona Halep, the World No 2, had barely finished her service motion before the ball raced past her. The point was the first on Halep's serve in the match. And in many ways, it set the tone for what was about to follow.
This quarterfinal Australian Open tie was the first time the two former World No 1s met since Halep beat Williams for the 2019 Wimbledon title. The American has since continued her search for the elusive 24th Grand Slam title that will take her level with Margaret Court for the all-time record.
On Tuesday, after an hour and 21 minutes, Williams took another step towards a major final after outhitting and out-defending Halep in a 6-3, 6-3 win.
3️⃣9️⃣ years of age.
4️⃣0️⃣ Grand Slam semifinals.@serenawilliams | #AO2021 | #AusOpen pic.twitter.com/c4tdzAF3XQ

— #AusOpen (@AustralianOpen) February 16, 2021
Williams' heavy-hitting
Jim Courier asked Williams after the match about that thunderous forehand winner on Halep's first serve of the match.
"I just saw it, looked like a donut, I went for it," came her answer.
It's a given that whenever the attack-minded 39-year-old takes to court, her groundstrokes will travel fast and heavy. But she turned things up a notch in the Rod Laver Arena, pulling the trigger early on her shots and giving Halep, a defensive baseliner, not much time to settle.
Though she conceded 33 unforced errors, Williams' 24 winners (compared to Halep's nine) paid greater dividends, and on the crucial points.
"This was the best match I've played in this tournament, for sure," Williams said.
Advertisement
"Obviously, I had to, going up against the No 2 in the world. I knew that I had to do better, and that's what I did."
"It's so good to see someone [@naomiosaka] that is so inspiring on both things." 💙

Even 7️⃣x #AusOpen champion @serenawilliams draws inspiration from her #AO2021 semifinal opponent 🙌 pic.twitter.com/yzASWfp1Gn

— #AusOpen (@AustralianOpen) February 16, 2021
Attacking Halep's second serve
The diminutive Romanian, who stands at 5-foot-6, can run all day and play shots with great depth. But her serve is not the quickest and most rewarding. Her second serve in particular was easy pickings for Williams – starting from the first point on the two-time Grand Slam champion's serve.
Overall, Halep won just nine of the 23 points on her second serve – a rate of 39 percent.
Williams' remarkable defence
The saying, 'attack is the best form of defence' has run true for a great part of her illustrious career. On Tuesday though, it seemed like she had added a dogged defensive quality to her arsenal.
Advertisement
Halep started to push her opponent on either side of the court in rallies, and Williams would chase it down and force the Romanian to play another shot, only to retrieve that as well. Halep eventually finished the match with just nine winners, a credit to Williams' tenacity.
But her defensive skills were best displayed when Halep was serving at deuce, 3-3 in the second set. The American scrambled from left to right in a rally that lasted 20 shots (the longest in the match) until the 29-year-old played an unforced error into the net. It gave Williams her sixth break point opportunity in that game, which she would convert to take the lead.
Halep's impressive fitness and playing style involves her running the opponent down and winning the long rallies. But in the rallies that lasted nine shots or more, Williams won 16 to Halep's seven.
Also Read
Watch: Jannik Sinner wins a 46-shot rally against Tommy Paul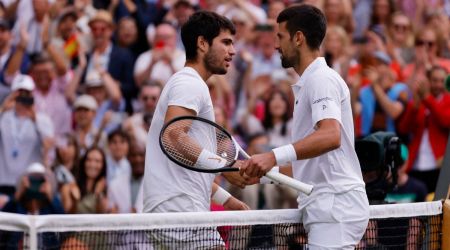 Novak Djokovic and Carlos Alcaraz set to meet again in group stage of Dav...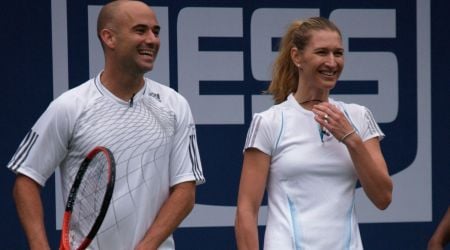 Does Steffi Graf ever age? Husband Andre Agassi has the perfect reply
'Never been friends, never been close to Roger Federer': Novak Djokovic s... Top Sports News Now
'The name of the game is intimidation': Hungry Gukesh takes on resurgent Magnus Carlsen
Vidit wins 4-2 to complete Indian quartet in FIDE WC quarters
Neymar joins exodus from Europe for 'greener' pastures in Saudi Arabia
Click here for more © The Indian Express (P) Ltd